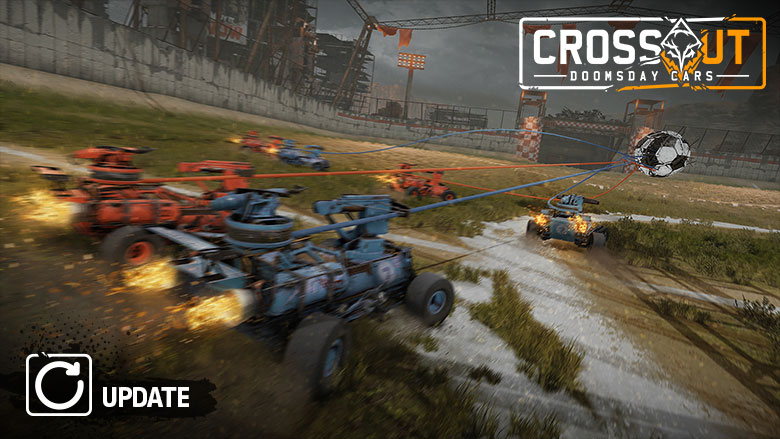 ---
Targem Games and Gaijin Entertainment announce the release of the 0.11.50 "Steel Championship" Content Update in the post apocalyptic online action Crossout. Players are now getting brutal armoured vehicle football with relevant prizes as well as the new PvP map - "Ravagers Foothold".
No matter how twisted and dangerous the post apocalyptic world is, the Crossout football season begins on schedule. Wasteland warriors move their mighty war machines to the garage and switch to harpoon-equipped armoured cars. These vehicles are created specifically to move a giant ball in the arena to try and score a goal. The matches take place in the "3 vs 3" format, winners accumulate rating points and may get a promotion to a higher league.Rewards include unique thematic cosmetic items, i.e. the epic rarity decor "Referee's whistle". Players may also purchase the "Third time" premium pack that includes a unique armoured vehicle "Fan van". The "Steel Championship" event will run until 22nd July.
Three bottomless shafts dominate the center of the "Ravagers Foothold" map and the bridges over them are a place of fierce battles. Some people say that these shafts look like a giant cooling system that might be needed by an nearby underground particle collider. No one knows why the enemies that stole the memories of the Wasteland warriors, chose this particular place as their foothold nor why they left it.
The full list of the new features is available at the official Crossout website.
---
About Crossout
Set in a post-apocalyptic world, Crossout is an MMO vehicle combat game available on PC, PlayStation®4 and Xbox One, offering players complete customisation in building and upgrading deadly armored vehicles to destroy enemies in open PvP and PvE battles. Crossout gives players thousands of possibilities to design their vehicle, including shape, armor, weapons, support systems and, of course, cosmetic enhancements. Official website: http://crossout.net/
About Targem
Targem was established in 2002, with the goal of bringing high-quality online entertainment to players worldwide. The studio's portfolio includes the MMO Action games Star Conflict and Crossout and many other titles for PC, consoles and mobile devices. Official website: http://targem.com/
07 July 2020